Charter Isole Egadi: Altamarea 27
Charter Isole Egadi: Altamarea 27
Potenza ed eleganza per una giornata indimenticabile
Il gommone Altamarea Wave 27 garantisce comfort, eleganza, sicurezza e ottima navigabilità in qualsiasi condizione meteo marina, per una giornata di mare indimenticabile.
Il gommone ha una lunghezza di 8,5 metri e può ospitare comodamente fino a 12 passeggeri.
A poppavia presenta un enorme prendisole, nel quale possono stare distese fino a 4 persone in contemporanea.
Ha inoltre un impianto stereo Hi/Fi Bluetooth/AUX/USB per il massimo divertimento.
É motorizzato con 1 motore Yamaha 350 V8 che assicura ottime prestazioni e consumi ridotti.
Potrete così rapidamente raggiungere le meravigliose spiagge di Favignana e Levanzo, la selvaggia e dolomitica Marettimo o navigare per la costa trapanese, visitando Monte Cofano, San Vito Lo Capo, la Riserva Naturale Orientata dello Zingaro, fino a raggiungere i famosi Faraglioni di Scopello.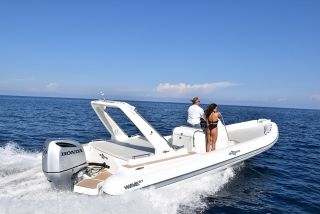 Il gommone è equipaggiato con:
Dotazioni di sicurezza per tutte le persone a bordo
Tendalino
Stereo Bluetooth/Aux/USB
Doccia con acqua dolce
Lavandino
GPS
VHF
Salpa ancora elettrico
Frigo
Prezzi:
350€ al giorno dal 15/4 al 30/6 e dal 09/09 al 31/10
450€ al giorno dal 01/07 al 08/09
Non compreso nel prezzo del charter:
Carburante (calcolato con dispositivo contalitri)
Skipper (100€ al giorno)
Cambusa
Porto di attracco diverso da quello di partenza
Book or request informations
Covid 19 emergency adjustments
The safety of our guests and our staff is our priority, so we take the following precautions to ensure it:
Members of our staff are vaccinated and use personal protective equipment.
We don't crowd our boats so we can keep a safe distance
We measure the body temperature of our guests and, on a daily basis, of all staff.